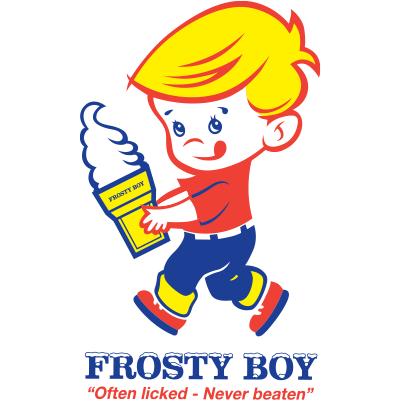 Since is first began in the 1960s, Frosty Boy has been enjoyed by many generations and has established itself as a beloved Kiwi icon among New Zealanders.
Originally launched in the South Island, Frosty Boy went through the hands of a number of corporate entities during its years. .
However in 2007, recognising the brand's significance, Milligans Food Group seized the opportunity to purchase the Kiwi classic and brought it back home to the South Island. Milligans expanded the Frosty Boy range of Soft Serve to include not only the ever-popular 'original' flavour, but a number of new offerings. Also available are Milkshake and Slushi syrups, meaning there's something to satisfy everyone's tastes.
Delivered throughout New Zealand to dairies and cafes, Frosty Boy definitely lives on!
When blended with water, these powders transform into a delicious, thick and creamy soft serve. Along with the classic Original flavour, and a Lite version for the health conscious, Frosty Boy also comes in Yoghurt, Banana, Chocolate and Strawberry.
Flavours include: Original, Lite, Yoghurt, Banana, Chocolate, Strawberry
Available in 3kg. 
Whether the customer wants an icy cold Frosty Ice Slushi, a yummy Milkshake or creamy Thickshake, the Frosty Boy range of syrups has something to satisfy everyone flavour craving.
Shake flavours include: Banana, Caramel, Chocolate, Creaming Soda, Lime, Raspberry, Spearmint, Strawberry and Vanilla
Slushi flavours include: Blue Lagoon, Cola, Lime, Mango, and Raspberry
Available in 2L. 
For more information download the Milligans Food Group product catalogue